LAST UPDATE : 18-03-2010
Un grand bravo à "Noah" EVER FALLEN IN LOVE DE LA CHAPELLE AUX ARBRES qui remporte à l'exposition de Flixecourt, le 07 mars dernier, son 2ème CAC mais aussi deuxième Meilleur de Race ! Un grand merci et bravo à Philippe (Elevage des Vallées d'Atrébatie) pour présenter et s'occuper si merveilleusement bien de Noah !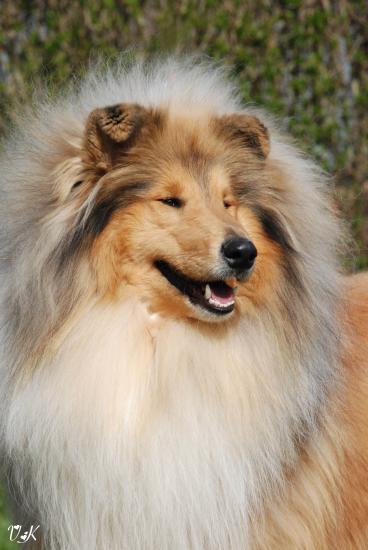 UPDATE OF 07-03-2010
With winning his 4th CACIB in Ukraine today, 'Rocco' fulfills the requirements for the titles of UKRAINIAN and INTERNATIONAL CHAMPION ! In addition, he gained also today CAC, BOB and BOG2 !!! What a star, what a prince !! I am so proud of him and so thankful to Oksana.
En remportant aujourd'hui son 4ème CACIB en Ukraine (où il fait également le BOB puis le BOG2), 'Rocco' devient CHAMPION INTERNATIONAL mais également CHAMPION D'UKRAINE ! Bravo mon loulou, je suis très fière de toi ! Merci du fond du coeur à Oksana !
UPDATE OF 05-03-2010
Some of my breeder's friends have marvellous puppies from amazing combinations to sell. All the infos can be found here.
De merveilleux chiots sont disponibles chez mes amis. Toutes les infos sont ici.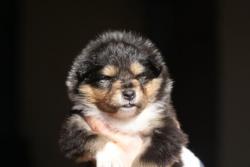 UPDATE OF 24-02-2010
Some new pictures of Dazzle's, Rocco's and Noah's OFFSPRING have been added. Discover all these fabulous collies by clicking here.
De nouvelles photos des enfants de 'Rocco', Dazzle et de 'Noah' ont été ajoutées dans les albums respectifs de ces merveilleux étalons qui ont marqué notre élevage et qui continuent, à travers toute l'Europe et la Russie, de laisser une empreinte, indéfectible, à race qui me tient tant à coeur. N'hésitez pas à les parcourir en cliquant ici.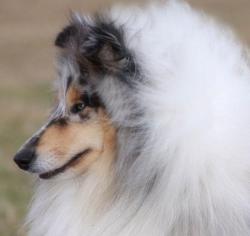 UPDATE OF 31-01-2010
De nouvelles photos de "Leeloo" DANSE AVEC LES LOUPS DE LA CHAPELLE AUX ARBRES ont été rajoutées sur sa page, elle est tout simplement fabuleuse. Un grand merci à Cyril pour prendre si bon soin de cette fabuleuse princesse et de m'envoyer des photos très régulièrement !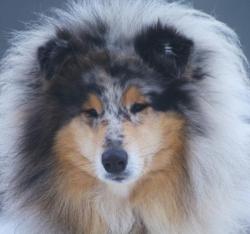 UPDATE OF 11-01-2010
BRAVO BRAVO !!! DREAM DESIGNED DE LA CHAPELLE AUX ARBRES has won the Open Class in last CACIB SHOW at Vincennes that was also a SPECIAL COLLIE CLUB SHOW !! He gained the

CAC

and the

RCACIB

under the judgements of Mr LARIVE !! My big congratulations to this wonderful boy who follows so perfectly the footsteps of his proud parents "Rocco" CH Velours Noir du Clos de Montamer and "Lyly" Absolutely Fabulous du Chemin des Randonnées ! And big thank you to Patricia for promoting and handling him so perfectly !!
And it's not the only good news concerning this stunning boy !! I am so delighted to announce that

'Dream' will be soon dad

for the first time !!! The puppies are expected at the beginning of February at Domaine des Emeraudes kennel. The mother is the somptuous Denaiis Soft Black du Domaine des Emeraudes. BOOKING HIGHLY RECOMMANDED.


Bravo bravo à DREAM DESIGNED DE LA CHAPELLE AUX ARBRES qui s'octroie le CAC et la RCACIB à l'exposition internationale de Vincennes (qui était aussi une Spéciale de Race). Un grand merci à Patricia pour le parcours de Dream en exposition et pour le présenter si merveilleusement bien !!!
Une bonne nouvelle n'arrivant jamais seule, je suis très heureuse de vous annoncer que 'Dream' sera bientôt papa, pour la première fois, aux Domaine des Emeraudes, par son union avec la superbe Denaiis Soft Black du Domaine des Emeraudes (échographie positive) !!! Je croise encore les doigts pour que tout se passe bien ! RESERVATION FORTEMENT CONSEILLEE !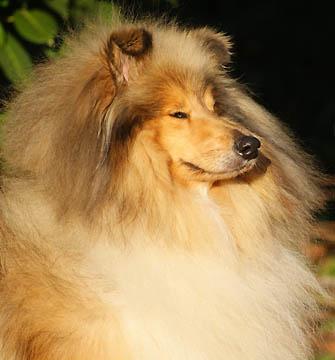 UPDATE OF 23-12-2010
My big congratulations again to Stina and John for the last great successes of my blue princess Coco Chanel in Germany on 11 & 12 December. Both days, she won her class and gained CAC (and RCACIB the second day). She has now 3 CAC in Germany !!! I am so proud of her, I have no enough words to express what I feel !
Mes félicitations sincères à John et Stina pour les derniers succès de "Coco" à Kassel en Allemagne les 11 et 12 décembre derniers. Ma princesse a gagné sa classe les deux jours (ainsi que la RCACIB le dimanche). Elle totalise à présent 3 CAC en Allemagne ! Bravo ma belle, je suis si fière de toi. Je n'ai plus de mots pour exprimer ce que je ressens.
Découvrez de nouvelles photos prises ce mois du superbe Dream Designed de la Chapelle aux Arbres, aussi charismatique que papa 'Rocco' et maman 'Lyly' ! Cliquez ici.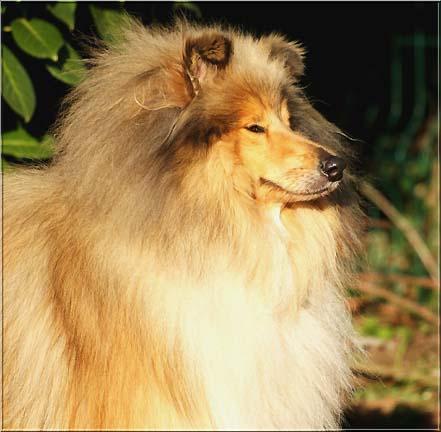 UPDATE OF 30-11-2010
Découvrez ou redécouvrez la page personnelle de DREAM DESIGNED DE LA CHAPELLE AUX ARBRES, mais aussi de CH. DISENCHANTED LULLABYE DE LA CHAPELLE AUX ARBRES, encore deux fabuleux enfants de "Rocco" & "Lyly" !
I don't breed anymore but some great friends of mine have sometimes marvellous puppies availables from great combinations. Discover a selection of them by clicking here.
Je n'élève plus de chiots colleys car j'ai arrêté l'élevage, mais des amis éleveurs ont parfois des chiots disponibles. Cliquez ici pour découvrir ces bouilles de tendresse. Si vous souhaitez un chiot élevé en famille chez un éleveur sympa qui fournira tous les conseils, un chiot issu des meilleurs origines, bien dans sa tête car sociabilisé dans les meilleures conditions, c'est ici qu'il vous faut impérativement aller !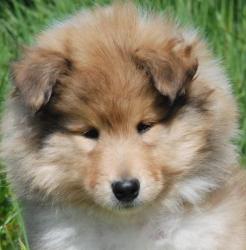 "Noah" EVER FALLEN IN LOVE DE LACHAPELLE AUX ARBRES is officially HD A/A !!!! Have a look on his personnal page by clicking here.
"Noah" est officiellement indemne de dysplasie (HD A). Cliquez ici pour accéder à sa page personnelle.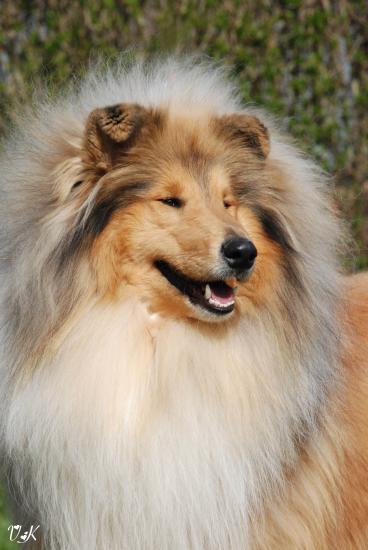 The "Offspring" pages of Rocco, Dazzle and Ever Fallen in Love de la Chapelle aux Arbres have been created with a lot of pictures. Don't hesitate to have a look on them by clicking here ! You can also find them on the left vertical menu.


Les pages "Descendance" de Rocco, Dazzle et Noah ont été créées avec de nombreuses photos pour chacune. De nombreux autres clichés seront régulièrement rajoutés. Ces pages sont accessibles depuis le menu vertical gauche.
De nouvelles rubriques ou pages ont été créées : "CONTACT", "LIENS", "MES FIERTES", "CHAMPIONS". D'autres ont été mises à jour mais nécessitent encore beaucoup de travail, patience !
RESULTATS D'EXPOSITION / SHOW RESULTS
COCO CHANEL !!! She did it ! On 7th November at Special Collie Club Show in Badbergen (Judge : Gee Mc Entee), she has finished 1st Excellent with CAC, Best Bitch, BEST OF BREED and finally BEST IN SHOW. Big big thank you to John and Stina for taking so great care of her and loving her so much. I know from the bottom of my hearT that I've made the best choice for my blue princess, her fabulous victory prooves she has settled easily in Danemark with my great friends, it is the most important for me, a real relief (and she has found a new bed ! lol)
Elle l'a fait !! Tout simplement magnifique ! Pour mon anniversaire, ma princesse Coco m'a offert un merveilleux cadeau en remportant l'exposition de Badbergen en Allemagne de la plus belle manière qui soit : BEST IN SHOW. Je sais du plus profond de mon coeur que j'ai fait le meilleur choix pour ma louloute, se séparer de ses chiens ne veut pas dire qu'on ne les aime pas. Coco s'est merveilleusement et très rapidement bien acclimatée chez mes amis John et Stina au Danemark et je sais qu'ils l'aiment autant que moi, et c'est bien là le plus important. Je vous l'avais dit : elle n'a pas fini de faire parler d'elle ! Je t'aime ma chérie !