"Lyly"
(Texas Blond du Chemin des Randonnées x Oxane du Chemin des Randonnées)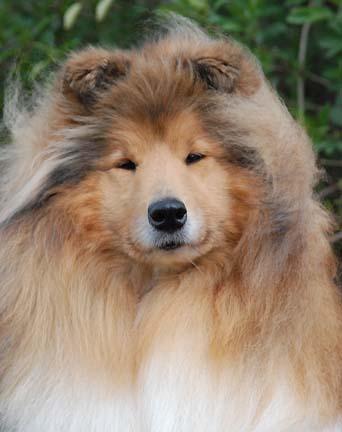 Femelle sable née le 16-01-2005 / Sable bitch born 16-01-2005 - Identifiée génétiquement / DNA tested
MDR1 +/-** Indemne AOC/APR (8 semaines) ** Dysplasie A/B - / CEA and HD free
Lice Recommandée (cotation 4 points) - TAN A / Recommanded by the French Collie Club
3 CACIB - 1 RCACIB - 6 CAC - 1 CACL - 2 BOB
BELGIAN WINNER 2009
Participation à Cruft's 2010 - Cruft's qualification
Lyly est enfin arrivée à la maison ! Je l'ai tellement attendue ! Un grand merci à ses éleveurs, Mr et Mme ROULIER, qui n'ont pas hésité une seule seconde à me confier cette merveilleuse poupée rousse au caractère d'ange et qui fait déjà chavirer mon coeur. Une beauté fauve comme j'en rêvais et qui porte si bien son nom !
J'ai marié Lyly fin 2007 à mon superbe Rocco et le résultat fut à la hauteur de mes espérances ! D'adorables petites bouilles charbonnées dotées de supers caractères sont allés faire le bonheur de plusieurs familles, en France, mais aussi en Pologne, d'ailleurs sa fille DISENCHANTED LULLABYE est CHAMPIONNE DE POLOGNE, mais aussi jeune championne de Pologne, Roumanie et Slovénie !
Revenue aujourd'hui totalement en condition, Lyly n'a rien perdu de sa superbe et compte bien le prouver !! Pour sa deuxième expo après ses obligations familiales, elle s'octroie le CAC CACIB et BOB, extrait du commentaire de Mme MOREAU DE VINCENS qui jugeait ce jour-là à Rouen : "un vrai bonheur pour les yeux" ... Oh que oui :-)
Sa deuxième portée avec le fabuleux champion anglais Lynmead Love of my Life fut également une réussite... j'ai même gardé un petit clown orange du nom de "Noah" qui fait déjà honneur à sa maman :-) tout comme son frère "Harley" à Stina, déjà champion de Croatie, mais aussi "Bromo" à Emil, jeune champion de Roumanie !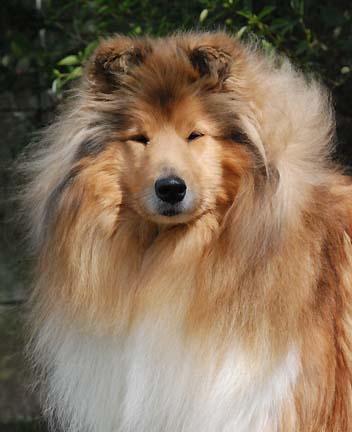 Welcome Lyly !!!
A real big thank to her breeders, Mr & Mrs ROULIER (Le Chemin des Randonnées kennel) who have trusted me. I am very happy to have a such sweet & beautiful girl at home ! She is my "golden dream", I love her so much, she is perfect for me ! She has numerous qualities as : perfect ear carriages, stunning expression, wonderful orange colour, lovely and strong bodyshape... simply amazing.
She has produced her first litter in 2008 with 'Rocco' and I am so fond of her children, especially proud of DREAM DESIGNED, DISENCHANTED LULLABYE and DELIGHTFUL DEB DE LA CHAPELLE AUX ARBRES
After her first maternal duties, she has decided to have a wonderful come back in the show rings :-) and what a come back !!!!
Her second litter in 2009 with the lovely champion Lynmead Love of my Life, brought me the marvellous "Noah" who I hope will follow the footsteps of his wonderful mum ! But there is also the marvellous "Harley" to Stina in Danemark who is already CROATIAN CHAMPION AND GRAND CHAMPION !! Without forgetting the other brother "Bromo" to Emil who is Young Romanian Champion !! Congratulations to all concerned !
In 2010 she helped me making one dream come true : going to Cruft's, that has been possible after her wonderful victory in Brussels dog show which has brought the precious qualification.
Lyly has many admirers in the collie world and her name really suits her perfectly !!!