(Royal Black du Chemin des Randonnées x Rhapsody in Blue du Clos de Montamer)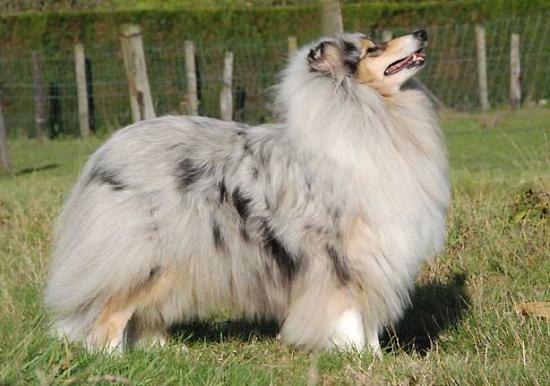 Femelle bleue-merle née le 01-05-2006 / Blue merle bitch born 01-05-2006
MDR-1 +/- ** Indemne AOC/APR (8 semaines) ** Dysplasie A ** CEA/HD Free
TAN (test de caractère) - Character test
2 CACS - 2 BOB
Un nouveau rêve devenu réalité. Un immense merci à Betty et Jean-Noêl DERRIEN ! Je n'ai même plus de mots pour leur exprimer toute ma reconnaissance depuis ces années !
D'un bleu exceptionnel, ma tendre Bohème est toute vêtue. Câlineuse à souhait, c'est la douceur incarnée. "Bohème" est la demi-soeur de Rocco par leur sublime maman Rhapsody. Ses trois portées m'ont totalement comblée. Merci ma belle !
Bohème is my blue little doll, with the loveliest blue colour. She has a marvellous body and excellent conformation and I can't stop her for giving me the pleasure to breed so such wonderful and exciting 3 litters (2 with Rocco, and one with the brother of Rocco). She has produced the incomparable COCO CHANEL DE LA CHAPELLE AUX ARBRES and the stunning DAZZLE BLUE LEGEND DE LA CHAPELLE AUX ARBRES. Thank you my darling !