"Noah"
(GB CH. Lynmead Love of My Life x Absolutely Fabulous du Chemin des Randonnées)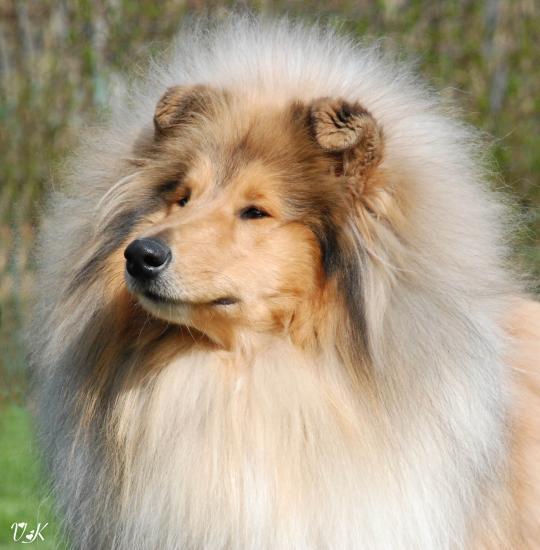 2 CAC - 1 RCACIB - 1 RCAC - 2 BOB
Propriétaires/owners : Virginie Karcz & Philippe MASQUELEZ (Elevage Les Vallées d'Atrébatie)
Mâle sable né le 19 mars 2009 / Dark sable dog born 19 March 2009
CEA Go Normal, indemne de Colobome à 7 semaines (ECVO) - CEA GO Normal, Free of Colobom (ECVO)
Hanches A/A - HD Free (A)
CANT sur troupeau / Herding test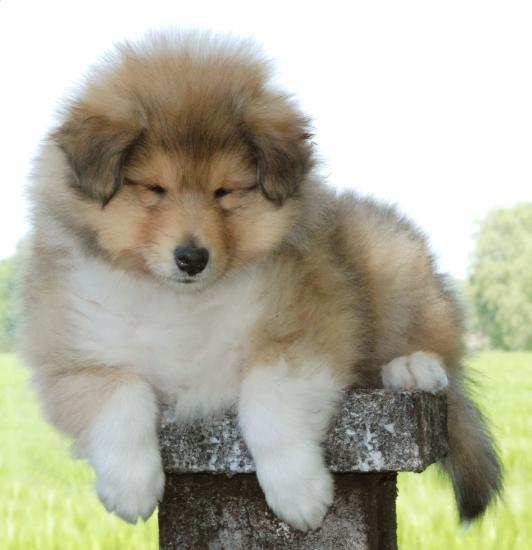 Je suis très vite tombée amoureuse de ce petit clown qui se démarqua très tôt par son expression unique, et c'est bien là un point auquel je tiens toujours très particulièrement lorsque je choisis un chiot.
"Noah" de son petit nom a plein d'étoiles dans les yeux et ce petit quelque chose de particulier et d'unique dont je rêvais en réalisant ce mariage.I l tient à la fois de papa et de maman et ce mélange délicieux est déjà porteur de belles promesses,le pedigree étant aussi des plus intéressants... Noah c'est aussi la crème de la crème en caractère, un nounours à tout point de vue, cherchant les caresses auprès de tout le monde, se mettant sur le dos à la moindre occasion pour les gratte-gratte ;-) Il réunit tout ce que j'aime chez un colley et c'est avec délice que je le contemple.
J'ai décidé de confier "Noah" à Philippe, car 3 étalons à la maison ça commençait à faire beaucoup... et je n'ai jamais regretté. Noah s'est senti comme à la maison aux Vallées d'Atrébatie et quand je le revois, il reconnaît toujours sa première môman. Il est resté le clown qu'il était, y ajoutant cette élégance à l'anglaise en prenant au fil des mois de la maturité. En présentation, c'est un régal, la perfection., et ses superbes allures bergères sont là pour prouver que : OUI ! Le colley sait aller aux allures !!!
Début novembre 2010, Noah est dévenu papa pour la première fois, quelle fierté !!
Retrouvez en cliquant ici, un album-photos consacré à sa descendance.
How not to fall in love in front of a such handsome boy. "Noah" has stars in his eyes and a so great charisma like his mother and father. He does not fear anything, showing his wonderful temperament in all situations. He has already great qualities and exactly this something different I wanted to have in this litter, Noah is a very charismatic puppy with marvellous eyes set and expression, perfect ears carriage, and with so marvellous parents and a fantastic pedigree... He's just wonderful in presentation and has a fantastic mouvement.
Since beginning November, he is the proud father of his first litter (click), I am so proud of him !
Here also, you can find some pictures of his offspring, they are just amazing !