(CH. Velours Noir du Clos de Montamer x Bohème du Clos de Montamer)
Prop/owner : Stina & John Bjerringgaard Hansen (A'Dior Collies - Danemark)
3 CAC - 1 RCACIB - 1 BOB - 1 BEST IN SHOW
Femelle bleue-merle née le 10-10-2007 / Blue merle bitch born 10-10-2007
Indemne Colobome*APR*Cataracte (7 semaines)/Free of Colobom - Indemne de dysplasie / HD Free
Identifié génétiquement Norme ISAG/DNA identified - MDR1 +/-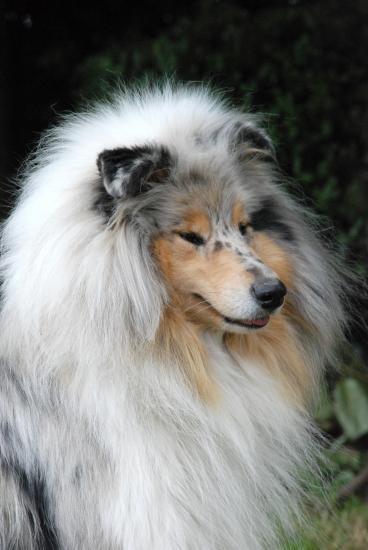 Ma douce Coco est un vrai petit bijou doté d'une expression incomparable. Elle est parée d'une jolie fourrure bleue, de ravissants petits yeux très étirés en amande et pétillants à souhait, et d'un stop bien prononcé et très bien placé.Coco la coquine est le fruit des amours de Rocco et de Bohème que je ne peux que remercier pour m'avoir offert la joie de pouponner une portée exceptionnelle en type et en qualité. Tout comme son frère et ses soeurs, elle est la digne et fière représentante d'une lignée qui me tient à coeur et dont les origines ne mentent pas.
Coco fut la chienne que je rêvais de produire et d'avoir, j'aurais pu arrêter l'élevage après cette portée tant j'étais comblée. La contempler est juste un ravissement pour les yeux dont je ne me suis jamais lassée, Coco c'est tout simplement L'EXPRESSION dans toute sa splendeur. Toutes les personnes qui sont venues à la maison ont été subjuguées par son regard. Malheureusement, suite à un ennui de voisinage, Coco n'a plus eu confiance en l'homme et je n'ai pu continuer à l'exposer malgré des débuts très prometteurs. Qu'importe, elle était et sera toujours ma fierté, l'amour qu'elle me rendait me suffisait.
Je sais qu'aujourd'hui elle donne aussi tout son amour et sa joie de vivre (loin d'un infecte voisinage) à ses nouveaux propriétaires et je leur souhaite tout le bonheur du monde avec ma princesse. La quitter fut un déchirement mais la savoir chez mes amis est un réconfort. Il se pourrait d'ailleurs que, forte de son nouvel environnement, vous rencontriez de nouveau mon diamant bleu sur les rings d'exposition... qui sait ?? Je t'aime ma chérie !
My lovely Coco is a sweet blue diamond with a marvellous and exceptionnal expression she has inherited from her father. She has a lovely colour, eyes and eyeshape, and a strong and well placed stop, an excellent conformation and body, with great movement.
She is the proud daughter of Rocco and Bohème who I can't stop thanking for giving me the happiness to breed a such wonderful litter from a breeding line I love so much for the type and the expression, a blood line that does not lie.
Coco was the bitch I'd ever dreamt to breed and own. Admiring her in the garden was sufficient for me and, although I could'nt show her a lot - due to an awful neighborhood that pushed her to not trust people - i've always been proud of her and the love she was giving me, was the only thing I need.
She lives now with her new family in Danemark, with my big and sincere friends John and Stina (A'Dior Collies) who I thank so much for loving her from the first day. It was very hard to let her go, she was my diamond, my pride, my baby, I've cried a lot but it is really a comfort today to know that she has settled so easily and marvellously with John and Stina. And she has proven it with winning with a so great class and her well-known charisma the SPECIAL COLLIE CLUB SHOW AT BADBERGEN in Germany, and in a such a way :

BEST IN SHOW !!! only that !!

When Stina phoned me (on 7th November - date of the show and also my birthday), I've cried again a lot, because it was just meaning she is now totally her, she is Coco, without the stress of my neighbors, and that I've made the perfect choice for her. I love her to bits and will always, she is for ever in my heart and I really hope I will able to come and visit her (and Stina and John by the same occasion :-)